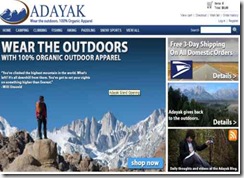 I just wanted to make a quick post regarding a new site, & show support for some online friends. www.Adayak.com is a new online clothing store, specializing in graphic tees & apparel made from 100% organic materials. Outdoor activities, such as camping, climbing, fishing, hiking, paddling & snowboarding are displayed in cool designs. Here's a caption from their site:
In reality, Adayak is more than an organic clothing line. Adayak is the adrenaline you feel after crushing a Class V rapid on the Snake River. Adayak is the sense of accomplishment after making your 15th pitch at Royal Arches in Yosemite. Adayak is saying goodbye to a cubicle and hello to 4th months of freedom on an Appalachian thru-hike. In short, Adayak is a lifestyle. It's what we all live for day in and day out.

Passion runs deep in any outdoor enthusiast. For the kayakers, hikers, climbers, bikers, and anglers… there is no alternative. At Adayak, we are taking the stories of your lifestyle and bringing them to fashionable, eco-friendly apparel.
Adayak donates $1 from every order to preservation charities. With every purchase you make, you're helping to preserve the outdoors, the way it should be for all of us to enjoy. As an added bonus, our friends at Adayak are offering a 10% off coupon through April 30, 2010. Remember to use the coupon crudeanalysiz at checkout to get your 10% savings! So, take a minute & jump on over to www.Adayak.com, & check out their line of eco-friendly apparel!
~Steve, The Pilgrim.