Sept. 17, 19.3 mi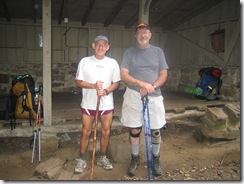 Slept ok in the bunk upstairs. Up around 7:45am, on the trail by 9:42. Took an hour to get there from
the hostel. My longest day on the trail—19.3 mi. Arrived @ Pine Swamp Branch Shelter @ 8:30p by
headlamp. The water source by here is better @ least.
This year's hike seems harder for me, not necessarily physically, but emotionally & spiritually. My
body seems to be healing & stronger, but today's climb out of P-burg was tough. Again I felt nauseous
& had a headache—could be just my allergies. I miss Beth, & find myself wanting to go home. I didn't
feel like this last year after 2 weeks on the trail. That could also be the smaller # of ppl out here @ this time—lack of friendships.
Jeremy & Kyra (Swotch & Capri) were doing some slackpacking over the next few days & I was
picking on them about it. They're good ppl—Jeremy turned 33 the other day, older than I thought—got
a b-day package @ the post office in P-burg.
Beth is leaving for NH tomorrow morning—she & some friends are hiking up to Lonesome Lake.
Hope they're safe & have fun.
Four more deer today (30). Will try for 18.5 mi to Laurel Creek Shelter.
Click here for more of this entry…
~Steve, The Pilgrim.