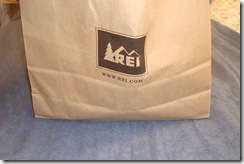 On the last weekend in January, my sweetheart & I stopped at the local REI for their latest Garage Sale. Those of you who've been to one of these Garage Sales know that you can get some pretty great gear at even greater prices! We went on Sunday, the last day of the sale. From what the REI employees told us, it was mobbed on Saturday, so we were glad we didn't that day. We may have missed out on some good stuff because of that, but I was lucky enough to find some stuff I needed. Now, we're looking forward to the .83 cent sale!
On my last long hike, there were a few pieces of gear that broke & needed repair, broke & needed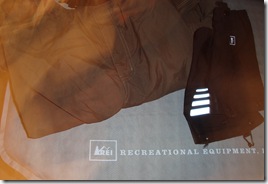 replacing, or just plain took a beating. One item was my pair of short-gaiters. A couple of the metal eyelets had rusted & broken off. Before that, I'd torn a gash in one of the gaiters, and thought I might repair it. But after the eyelets/grommets tore off, I just tossed them in the trash when I reached the nearest town for resupply. The pair in this photo were $9.83, and are missing just the string or cord to hold them in place. Simple enough fix.
The zip-off pants were also $9.83, a return due to the broken zipper. This seems to be a common problem with the REI zip-off pants. Last year we found a different color of these same pants for under $6. Again, this repair is simple enough. I've found that most fine-tooth zippers, whether on pants, jackets or whatever, can fail very easily. My fix is to use velcro, sewn beneath the outer flap.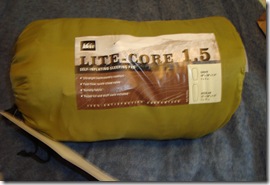 I think the best find was this REI Lite-Core self-inflating sleeping pad. It was $2.83, and on the tag was the word "patch" followed by a question mark. I figured that even if it needed a patch, it was still a great find! Before starting this blog post, I helped it inflate & waited to see if it in fact leaked at all. It does seem to have a pin-hole leak somewhere, as it is very slow in deflating. This will be easy enough, hopefully, to find the leak & patch it up. It'll be a great back-up sleeping pad to have, loan to friends when out backpacking, or whatever. I have one of these already, & highly recommend them. They're light, comfy & very reliable.
So, for less than $23, I have three new (at least, new to me) pieces of gear. Now, I'm ready for the .83 cent sale!
~Steve, The Pilgrim.